.
Unleashed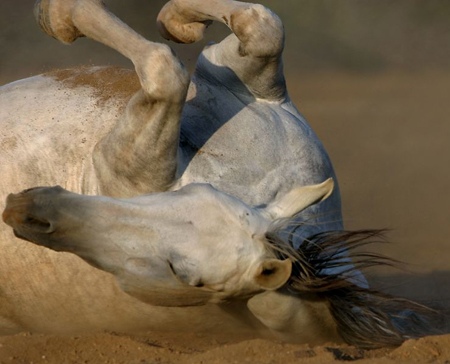 FULL NAME: Unleashed
NICKNAME(S): (unknown)
BREED: Quarab
GENDER: Male
COLOR: Gray
EXTRA TRAITS: (none)
TITLE(S): (none)
DATE OF BIRTH: (unknown)
SIRE: Roco
DAM: Rodeo (Matthew (Sun Storm x Emia) x Glory (Divided Country (Broken Promises x American Spy) x Prelude))
FULL SIBLINGS: Niosa (twin sister)
HALF SIBLINGS: Post It (brother, out of Artemia)
ALLIANCE: Light
AGE AT DEATH: (unknown)
DATE OF DEATH: June 22, 2007 (74 BQ)
CAUSE OF DEATH: Impact after falling off cliff during struggle
CHILDREN: Wilson (daughter, out of Leithian)
HOME(S): Prairie of Lights
LOVED: Leithian
BEST FRIENDS: Niosa
Born in Prairie of Lights to a loving pair and many wonderful siblings, Unleashed had a normal childhood. However, as he aged, he, like his twin sister, found difficulty obtaining love and their own life. While his sister finally joined a good friend of her's, he became smitten with a wandering gray mare, Leithian. She, however, spurred his advances year after year, until finally, overcome with desperation and lust, he forced himself onto her. Furious, she then fought back, and in the struggle that followed, he misstepped and fell of the nearby cliff.
« Back

.