.
Ferris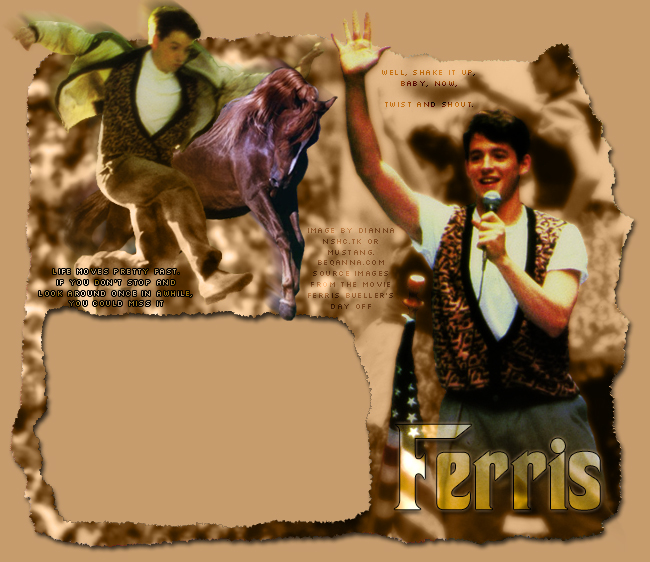 FULL NAME: Ferris
NICKNAME(S): (unknown)
BREED: Anglo-Arabian
GENDER: Male
COLOR: Chestnut with white strip
EXTRA TRAITS: (none)
TITLE(S): Light Prince, Evil Prince
DATE OF BIRTH: May 5, 2004, around mid-day (37 BQ)
SIRE: Aidesa
DAM: Eustacia (Black Magik (Nothing Personal x Aspercel's Princess) x Eloquent (Swish x Rainbow Love))
FULL SIBLINGS: Shaw (twin brother)
HALF SIBLINGS: Poison (sister, out of Mourning Dove)
ALLIANCE: Light
AGE AT DEATH: Seven
DATE OF DEATH: 11:00 am, December 30, 2004 (44 BQ)
CAUSE OF DEATH: Murdered by son Bateau
CHILDREN: Bateau (son, out of Niosa)
HOME(S): Clandestine Valley
LOVED: Seraph, Niosa
BEST FRIENDS: Ferris, Jones, Berlin, Goldwashed Rose, Seraph, Niosa
Ferris's history was complicated. His father he did not know and perhaps would never and his mother was a forgotten princess. Eustacia, she said her name was, daughter of Black Magik and Eloquent, granddaughter of Swish – the kings of old. He wasn't proud of his heritage, however, nor was his mother. Not many knew the story of Eloquent and Black Magik. It was a hushed up affair, one that neither the queens of Black Magik nor the king Swish knew about; it was a forbidden affair – adultery.

But it happened, and Black Magik loved the mother and daughter. He could not speak of it, however, for it would ruin him. In the immigrant days of Beqanna, when few were born within its boarders, the last thing he needed for his growing dark lands was the knowledge that he loved a light princess. And Eloquent, knowing her father would never approve, bid her love farewell and vanished with her new daughter, Eustacia.

Eustacia grew up hidden, but still in Beqanna. Eloquent watched her husband through veiled eyes in the forest, though Beqanna eyes never saw her again. Stacy lived a sheltered life, and all she knew was her mother. Together they loved each other and carried on their business, until the day Eloquent died of a disease. Stacy was thirteen at the time – a rather matured mare, and she became curious and began exploring. For a while she lingered in the herdless field though never stayed long, especially after her heritage was revealed to her.

The rest of her years were a daze and during her drunken time, she gave birth to a crimson colt and a mahogany colt - twins. She named the young fellows Ferris and Shaw, and for two years, raised them to the best of her ability. She didn't know the boys' father, or remember even a bit about him, though unlike what her mother did, she told Ferris and Shaw about it. She also spoke to them about their sides… dark and light, so they wouldn't have to be forced to choose suddenly as she was. But then, within days of their third birthday, she passed away of a high fever's complications, leaving Ferris and Shaw alone, with no one in the world but each other and their animals friends. Ferris often visited the outside world secretly, though never Beqanna. Eventually, following his wilder brother, Ferris's, example, Shaw did too.

He ventured out into Beqanna finally and met a new friend, Goldwashed Rose, who came to live with him and Shaw. Then, on his second trip, he met what seemed like a mutual soul, Seraph, who in actuality was the cousin of his friend Jones.

She disappeared, however, much to his grief, and he eventually found love in Niosa instead. They had a son together, Bateau, who eventually murdered them both.
« Back

.