.
Franchesca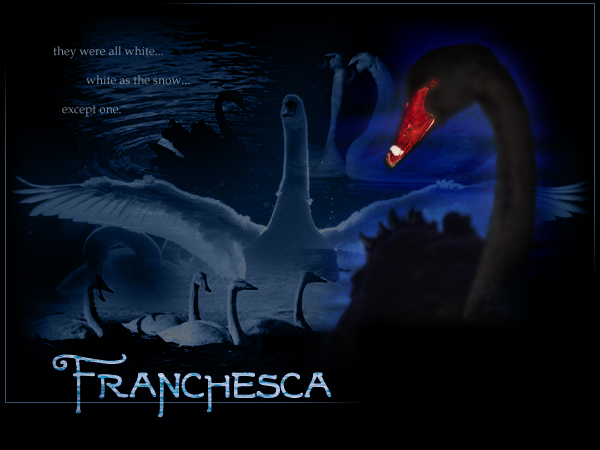 FULL NAME: Franchesca
NICKNAME(S): Fran
BREED: Lipizzan
GENDER: Female
COLOR: Black
EXTRA TRAITS: (none)
TITLE(S): (none)
DATE OF BIRTH: Early November 2003 (31 BQ)
SIRE: (unknown)
DAM: (unknown)
FULL SIBLINGS: (unknown)
HALF SIBLINGS: (unknown)
ALLIANCE: Evil
AGE AT DEATH: 8
DATE OF DEATH: July 9, 2004, at night (39 BQ)
CAUSE OF DEATH: Impact after running off a cliff
CHILDREN: (none)
HOME(S): Rolling Sands
LOVED: (none)
BEST FRIENDS: Crying Moon
A Lipizzaner that never whitened, she was ousted from the Lipizzan stables where she was bred and eventually ended up at Beqanna. There she was taken in by Dented Soul, though she didn't feel any true emotions for him, but was glad for a place to stay. She did befriend Crying Moon, her only adult friend, before she fell to her death on the night of July 9th.
« Back

.